New hire aims to strengthen relationships with federal lawmakers and regulators to advance HSC's public policy priorities
HEMLOCK, Mich. ― Hemlock Semiconductor Operations (HSC), the nation's largest manufacturer of hyper-pure polysilicon used in semiconductors and solar modules, has named Madeline Nykaza as its Director of Government Affairs.
Nykaza comes to HSC from her position as assistant director of federal relations for the University of Michigan in Ann Arbor, where she was responsible for developing legislative strategy and representing U-M's policy priorities before the federal government.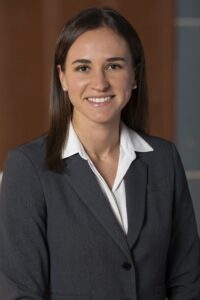 In her new role at HSC, Nykaza will develop strategies to advance the company's legislative and regulatory initiatives and lead Hemlock's interactions with federal lawmakers, executive branch agencies, and other key stakeholders in policy areas that include climate change solutions, manufacturing and energy, all of which play a significant role in Hemlock's future as a raw material supplier to the semiconductor and solar industries. She also will track and analyze legislative and regulatory policy developments in Washington, providing intelligence and insights to the HSC executive team and board of directors.
"Joining the HSC team is an exciting opportunity to put my experience and expertise to work in advancing the company's policy priorities," Nykaza said. "I look forward to guiding our engagement with federal lawmakers on both sides of the aisle, with federal regulatory agencies, and with other key stakeholders."
Prior to her work at U-M, Nykaza served as a legislative assistant in the office of U.S. Sen. Carl Levin of Michigan. She also worked for U.S. Sen. Robert Menendez and as a legislative aide in the Michigan Legislature.
"We're fortunate to bring Madeline on board to manage federal relations for HSC," said Brooke Beebe, HSC Senior Vice President of Advocacy and Engagement. "Her experience representing U-M at the federal level and her service in several congressional offices will make her a valuable addition to the Hemlock team."
Nykaza earned bachelor's degrees in sociology and Spanish from U-M in 2009 and earned her master's degree in business administration in 2021, also from U-M.
A headshot of Madeline Nykaza is available here.
About Hemlock Semiconductor
Hemlock Semiconductor Operations (HSC) is a leading provider of hyper-pure polycrystalline silicon and other silicon-based products used in the manufacture of semiconductor devices, solar cells and modules. At HSC, we're passionate about silicon-based technology and its unique potential to connect and energize the world we share. HSC's polysilicon enables customers to produce high-tech electronics and solar energy, and our efficient manufacturing process delivers products with an ultra-low-carbon footprint. HSC began operations in 1961.
More information can be found at: hscpoly.com | @hscpoly | LinkedIn | Facebook | YouTube