HEMLOCK, Mich. – Mark Bassett, who at the end of the year will retire as Chairman and CEO of Hemlock Semiconductor Operations (HSC), the nation's largest manufacturer of hyperpure polysilicon used in solar panels and semiconductors, today shared his thoughts about the evolution of the company over his five-year tenure. As previously announced, Bassett will be succeeded on January 1, 2022 by Arabinda "AB" Ghosh, HSC's current Chief Operating Officer.
"I'm proud of the work of HSC's employees over the past five and a half years to make the company successful and to solidify its place as the country's largest manufacturer of hyper-pure polysilicon, a critical material used in the solar, semiconductor and battery storage industries," said Bassett.
"Since 2016, we've made tremendous strides strengthening our leadership in semiconductors and re-establishing relevance in solar," he added. "Over the last two years, we worked to educate the marketplace and the policymakers in this country about the importance of the U.S. semiconductor and solar supply chains, and the role that HSC can play in strengthening those and making them more resilient. I believe that HSC is on the verge of seeing increased demand for our hyper-pure polysilicon, which would allow the company to expand and hire new workers for our Hemlock plant."
Before joining HSC, Bassett had a 26-year career in the chemical industry starting out as a researcher at Union Carbide, before moving to finance, then to the commercial organization of Union Carbide and then Dow Chemical.
Bassett said he considers everyone at HSC to be family and is mindful of the impact the company and its employees have made in the Great Lakes Bay Region through volunteering, giving grants and supporting educational efforts such as the new Lockwood STEM Center serving area high schools. He and his wife, Mary, plan to stay in the area and continue their own efforts to contribute to communities in Bay, Midland and Saginaw counties.
"I've had a career I would have never envisioned. It's gone places I would have never thought it would have gone," Bassett said. "As I look back, it was ultimately people who made the difference. They helped me grow. They helped me develop. They gave me new perspectives. I just get a lot of joy working with people to make something different and better."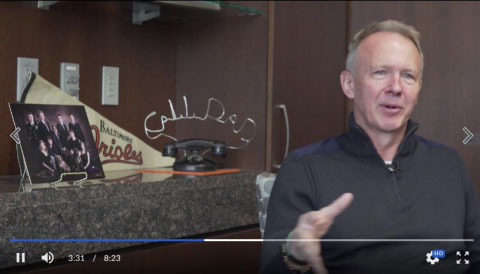 Download a video (mp4) or audio (wav) of highlights of an interview with Mark Bassett.
Headshots of Mark Bassett and AB Ghosh can be found here and here.
About Hemlock Semiconductor
Hemlock Semiconductor Operations (HSC) is a leading provider of hyper-pure polycrystalline silicon and other silicon-based products used in the manufacture of semiconductor devices, solar cells and modules. At HSC, we're passionate about silicon-based technology and its unique potential to connect and energize the world we share. HSC's polysilicon enables customers to produce high-tech electronics and solar energy, and our efficient manufacturing process delivers products with an ultra-low-carbon footprint. HSC began operations in 1961.
More information is available at: hscpoly.com | @hscpoly | LinkedIn | Facebook | YouTube
For more information:
Kathy Barks Hoffman
(517) 256-9166
khoffman@martinwaymire.com