Federal investments in the U.S. semiconductor supply chain expected to drive innovation, job creation and global competitiveness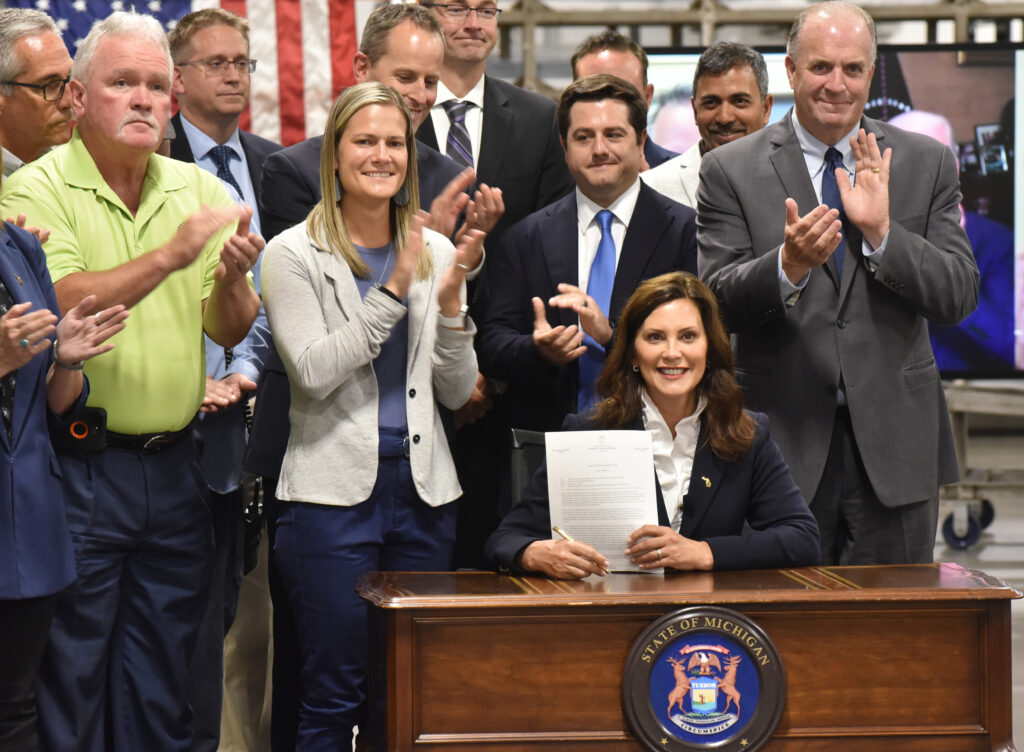 Hemlock Semiconductor Operations (HSC), the nation's leading manufacturer of hyper-pure polysilicon used in the semiconductor and solar industries, today hosted a virtual visit from President Joseph R. Biden, Jr. to highlight his forthcoming signing of the CHIPS and Science Act of 2022. HSC is part of the Corning Incorporated family, one of the world's leading innovators in materials science.
The CHIPS Act will drive innovation, bolster global competitiveness and create jobs in the U.S. supply chain for semiconductors. HSC's polysilicon plays a foundational role in the industry, serving as the semiconductor inside the chips that make our phones and cars smarter. President Biden was joined virtually by U.S. Senators Debbie Stabenow and Gary Peters, and in person at HSC's manufacturing facility by Michigan Gov. Gretchen Whitmer and Congressman Dan Kildee. All are longtime champions for bolstering Michigan manufacturers in critical industries such as semiconductors.
"For the sake of our economy and jobs and cost and national security, we have to make these semiconductors in America once again," President Biden said. "This bill funds the entire semiconductor supply chain, from research and development to key inputs of polysilicon manufactured at Hemlock. The progress we're making is proof that we're the United States of America. There's nothing beyond our capacity when we work together."
"The bipartisan CHIPS and Science Act will make a once-in-a-century investment in American industry," said Governor Whitmer. "The ongoing chip crisis is having a stark impact on Michigan. We need to move fast, which is why I signed an executive directive today preparing Michigan to harness every available resource from the CHIPS and Science Act to set up our state for decades of growth. I will fight hard to ensure that Michigan brings home as many resources as possible from the CHIPS and Science Act, and I look forward to unleashing our state's potential. Let's keep putting the world on notice and show everyone that Michigan is the place to build the future."
"This legislation is a huge deal, particularly for us in Michigan," Sen. Stabenow said. "It's going to lower costs for Americans. It's going to strengthen our national security. It's going to bring jobs home. It's going to bring high quality jobs home. And it's going to ensure that we're leading the next generation of scientific discovery."
"American workers must be making these semiconductors," said Sen. Peters. "This bill makes investments and leverages standing private investments with folks like Hemlock, and I thank them for hosting this event. We're proud you're located in Michigan making these products essential to the manufacturing stream. When you think about semiconductors, they are in just about everything we use from smartphones, electronics, to our washing machines, certainly our automobiles."
"This bill will boost U.S. manufacturing," said Congressman Kildee. "It will help create sustainable, good paying jobs right here in mid-Michigan. The CHIPS and Science Act will also help us compete with our global competition to win and own the 21st century economy."
"We are honored to welcome President Biden to HSC in celebration of the CHIPS Act, a monumental bipartisan accomplishment," said HSC Chairman and CEO AB Ghosh. "The CHIPS Act signals to HSC—the sole U.S.-headquartered polysilicon manufacturer—that investment in the entire domestic semiconductor supply chain is a national priority. We also thank Governor Whitmer, Senators Stabenow and Peters, and Congressman Kildee for championing the CHIPS Act and for bolstering American innovation, manufacturing and global competitiveness."
The CHIPS and Science Act authorizes a $52 billion federal investment over the next five years in boosting domestic semiconductor manufacturing and provides a 25 percent tax credit for new or expanded facilities that make semiconductors or related equipment. The measure includes $39 billion in grants for new manufacturing, $11 billion for federal semiconductor research programs and workforce development, and $2 billion for Defense Department-related microelectronics activities.
"HSC's polysilicon can be found in billions of devices around the world. In fact, approximately one-third of all devices requiring a chip have HSC polysilicon in them," said HSC Senior Vice President and Chief Commercial Officer Phil Dembowski. "Semiconductor devices enable all emerging technologies including machine learning, artificial intelligence, quantum computing, self-driving vehicles, even biotech breakthroughs. Continued investments in cutting-edge manufacturing techniques along the entire semiconductor supply chain are needed for the U.S. to remain globally competitive."
"Polysilicon is the semiconductor in semiconductor chips," said HSC Culture and Communications Manager Kristen Opperman. "Without polysilicon made to the level of purity that we do, the breakthroughs in our technology that keep our world connected and energized would not be possible. The infrastructure here at HSC is extraordinary, and the work being done to run these assets is second to none. I thank our esteemed visitors for bringing semiconductor manufacturing back to the U.S. so we can have more Americans doing great work to change the world."
Video from today's event can be viewed here and photos can be downloaded here.
About Hemlock Semiconductor
Hemlock Semiconductor Operations (HSC) is a leading provider of hyper-pure polycrystalline silicon and other silicon-based products used in the manufacture of semiconductor devices, solar cells and modules. At HSC, we're passionate about silicon-based technology and its unique potential to connect and energize the world we share. HSC's polysilicon enables customers to produce high-tech electronics and solar energy, and our efficient manufacturing process delivers products with an ultra-low-carbon footprint. HSC began operations in 1961 and is owned by Corning Incorporated and Shin-Etsu Handotai.
More information can be found at:
hscpoly.com | @hscpoly | LinkedIn | Facebook | YouTube