Hemlock, Mich. – Hemlock Semiconductor, the nation's leading manufacturer of hyper-pure polysilicon for the semiconductor and solar industries, today announced that Chief Financial Officer Steve Sklenar will retire at the end of August. Incoming CFO Michael Moen joins the HSC executive leadership team today to allow for a smooth transition.
"Steve Sklenar has been a steady hand on the wheel of HSC's financial performance over the past four years," said AB Ghosh. "His business acumen and insights have helped us through a period of significant growth and change. We're grateful for his service and wish him every success in his future endeavors."
"It has truly been a privilege to be part of such an amazing group of leaders and innovators, who work together as one team to drive the enterprise forward," Sklenar said. "While I'm looking forward to retirement, I will always cherish the friendships made over the past four years and everything we accomplished together."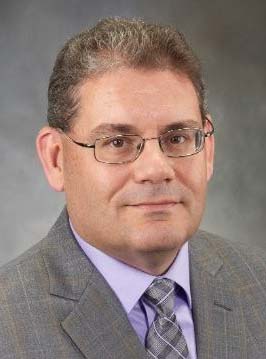 As HSC's new Chief Financial Officer, Michael Moen will lead the company's Finance, Information Technology and Portfolio Management Office teams and partner with other members of the leadership team to achieve HSC's financial plans and strategic priorities. He will report directly to Chairman and CEO AB Ghosh.
"We're delighted to welcome Michael to the HSC team as our new CFO," Ghosh said. "He brings an extensive manufacturing portfolio and tremendous financial savvy to his new position. I'm confident he will be a strong and effective leader who will keep us on track and help us meet our commercial objectives."
"I'm thrilled to join Hemlock Semiconductor at such an exciting time in the company's 61-year history," Moen said. "HSC's growing role in the semiconductor and solar industry supply chains, as well as emerging opportunities in battery storage, represent a huge opportunity to expand our share of the global market for ultra low-carbon, hyper-pure polysilicon, which will translate into the financial benchmarks we're aiming to achieve."
Moen comes to HSC from Hubbell, Inc., an American company headquartered in Connecticut that designs, manufactures and sells electrical and electronic products for non-residential and residential construction, industrial and utility applications. As Hubbell's Vice President of Finance, Electrical Products Business Unit, Moen was responsible for leading the finance function, cost and operating margin, manufacturing efficiency, service delivery and price realization. In addition, he developed a customer profitability model and established a Capital Council to better manage manufacturing capital spending.
Moen holds a Bachelor of Science in Business Administration – Economics, and a Master of Science in Accountancy, both from Appalachian State University in Boone, North Carolina. He and his wife, Kelly, will be relocating to the Great Lakes Bay Region soon.
Photos of Sklenar and Moen are available here and here.
About Hemlock Semiconductor
Hemlock Semiconductor Operations (HSC) is a leading provider of hyper-pure polycrystalline silicon and other silicon-based products used in the manufacture of semiconductor devices, solar cells and modules. At HSC, we're passionate about silicon-based technology and its unique potential to connect and energize the world we share. HSC's polysilicon enables customers to produce high-tech electronics and solar energy, and our efficient manufacturing process delivers products with an ultra low-carbon footprint. HSC began operations in 1961 and is owned by Corning Incorporated and Shin-Etsu Handotai.
More information can be found at:
hscpoly.com | @hscpoly | LinkedIn | Facebook | YouTube