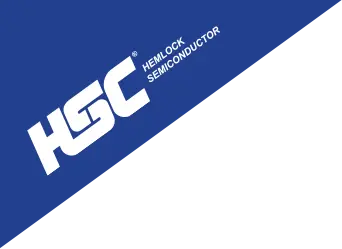 Work
Where Your Hard Work
Pays Off.
Hemlock Semiconductor is the nation's largest manufacturer of high-purity polysilicon, used in electronic devices worldwide.
Entry-Level Positions Available
Cleanroom Operator:
As a Cleanroom Operator, you will rotate between jobs such as breaking, packaging, labeling, sealing and rework of hyper-pure polysilicon. You'll receive on-the-job training that will allow you to excel and could lead to many opportunities for growth and advancement at HSC.
Pay and Benefits
This position offers excellent pay and a wide range of benefits. New hires are eligible for full benefits at time of hire.

Starting pay of $19.69 an hour, with many opportunities for advancement

Medical, dental and vision coverage

401K retirement account – up to a 7% company contribution



128 hours of paid time off the first year, more in future years

Tuition reimbursement program

About Hemlock Semiconductor
HSC is not only America's leading manufacturer of high-purity polysilicon for electronic devices, but we're also moving the world toward a greener future by supplying the fast-growing solar power industry.
HSC takes pride in investing in the success of our employees, and being an involved and active community leader in the Great Lakes Bay Region.