This article appeared in the November/December 2022 issue of MiMfg Magazine. Read the full issue and find past issues online.
Advocacy, loyalty, empathy, hands-on experience and an ability to get things done are all marks of a true leader. Kristen Opperman has all of that and more — and she has it in spades.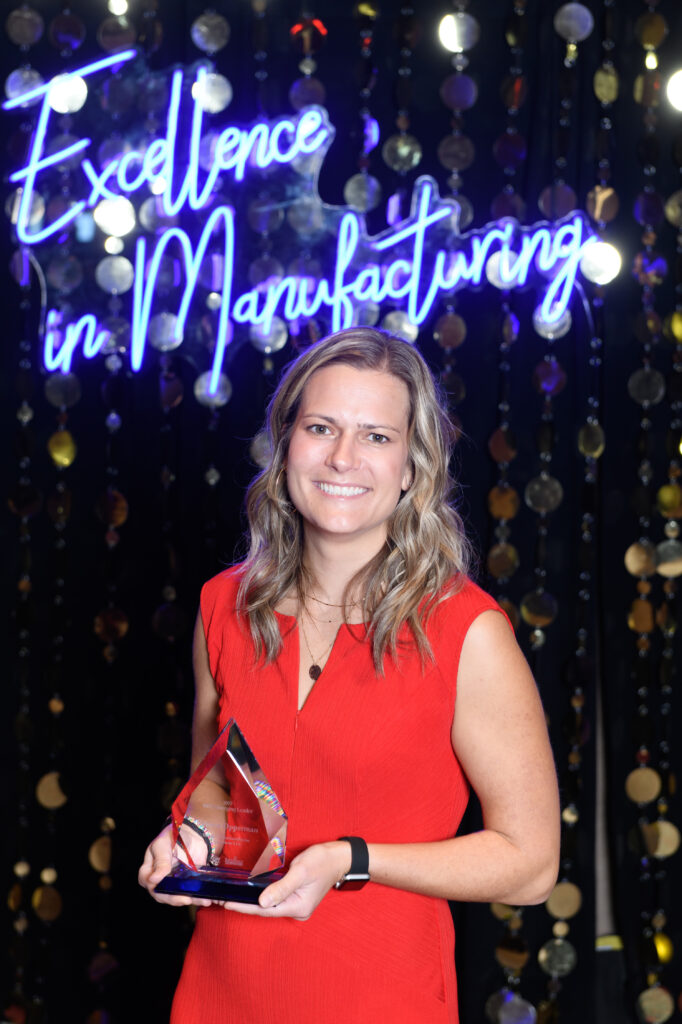 With a background in chemical engineering, Kristen began working with Hemlock Semiconductor (HSC) 11 years ago as a manufacturing engineer in the Chemical Vapor Deposition area and then worked in finishing as a quality engineer. From there, she transitioned into a project role in Six Sigma Black Belt, which included organizational responsibilities for visible, high-profile projects — which is where she recognized her true calling.
"I found out that I loved building my own teams," Opperman says. "I loved bringing together people with the right skillsets that could really get the job done and come up with the best ideas and best solutions to impact the site and make all of our different projects even better than we could have imagined."
Soon, her HSC career took yet another turn. The executive team asked if she was interested in applying for a then newly formed communications liaison role. Considering that this was a very different type of role for her, she had to think about it awhile before applying. But she did, and she's thankful for that.
"One of the best pieces of advice that I had ever been given when I first started here was, 'The job is what you make of it.' And, with a brand new role, it's truly a job that I could make what I wanted it to be," she explained. "It's a career shift that is something I probably would have never gotten to experience, and I'm grateful that they even created the role to be able to move in that direction."
Soon, separate teams were created for that function. One was the Culture and Communications team, and that's where she stands today.
Having a science background and hands-on experience on the factory floor truly makes a difference in her current role. It's especially beneficial in understanding what front line workers need.
"That goes a long way because I can hear it in their language. I understand why they're saying things," says Opperman. "It really excites me because I can advocate for our front line workers, and I can bring their voice to the table at the executive level."
Brooke Beebe, Senior Vice President of Advocacy and Engagement, says Kristen's network is one thing that makes her a true asset in her role.
"Not only does she want people to be heard, but she's also an advocate for making sure that people are really listened to as well," says Beebe. "From her background being out in the plant, she just has this unique perspective of knowing and understanding the unique concerns and challenges that people face and then wanting to help them overcome those."
Production Manager Karl Huebert said Opperman doesn't knock anyone down but builds them up and challenges them in a constructive manner.
"Kristen is someone you want in your corner," Beebe says. "Kristen is a culture warrior and an advocate for the company."
Receiving the Emerging Leader recognition was humbling for Opperman and helped to affirm that she's on the right path.
"When I heard I won the Emerging Leader Award, I was somewhat speechless," says Opperman. "Getting the recognition really helps me know that I am doing the right things. I'm connecting with the different people that make my job fun to do. I'm exemplifying what I want other leaders to do. I can be a mentor and really advocate for our younger generation."
Opperman appreciates those who have helped her grow over the past 11 years and continue to support her.
"I get to work with leaders who exemplify what a leader should be," she says, adding that making a difference for the team is what keeps her motivated.
"I am blessed to be able to advocate for that culture, to push the culture, to make it even better, to live our values and to really create an atmosphere here at HSC so that people want to come work for us. People want to stay and work for us. Not everybody gets to build something like that, and it's been a lot of fun."
Opperman's passion for being an employee advocate and her ability to connect with and inspire people truly make her an Emerging Leader.