This article appeared in the November/December 2022 issue of MiMfg Magazine. Read the full issue and find past issues online.
For the past 38 years, Terri Datz-Siegel has been a force at Hemlock Semiconductor (HSC) and within the industry. She's an engineer, a leader, a coach, a mentor and so much more to so many people.
Datz-Siegel currently serves as Manufacturing Expansion Start Up Manager/Manufacturing Fellow for HSC, one of the world's leading makers of hyper-pure polysilicon and silicon-based products.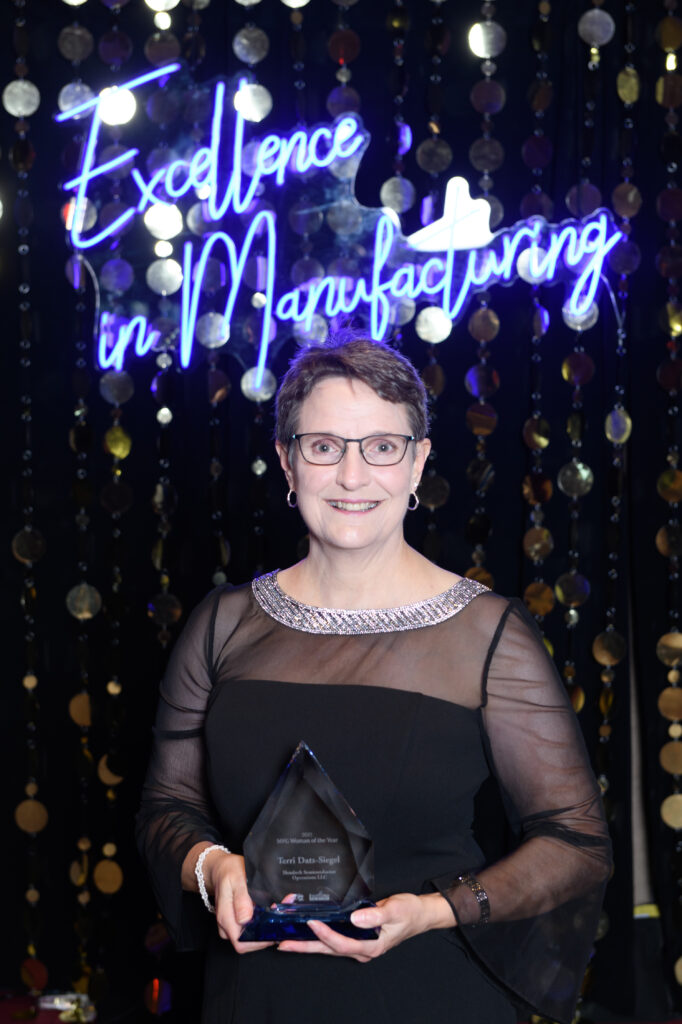 There is enthusiastic agreement among her peers that Terri Datz-Siegel is Hemlock's resident expert on processes, safety and people. Despite coming from a technical engineering background, she has taken a leading role in the company's most important asset — its talent. Her goal is to pass on her knowledge to the next generation through coaching and being supportive without stymying the learning process which is the true driver of personal growth.
"I've learned by making some mistakes, in fact, that's where you can learn the most," says Datz-Siegel. "I encourage employees to be creative and find solutions. There's almost always a solution to the problem, we just have to look hard enough to find it."
Coaching and Mentorship
Her passion for coaching and honing individual growth has been especially impactful to the women engineers at HSC. While a humble person by nature, Datz-Siegel doesn't fail to recognize what she represents as a strong, female leader in an industry that overwhelmingly leans male. She also understands how difficult it can be for new women employees to feel comfortable in a manufacturing setting, so she provides the guidance and attention to support their growth professionally and personally.
Four years ago, Datz-Siegel established the Women's Engineering Network at the behest of Mark Bassett, Hemlock's CEO at the time. Since then, she's taken ownership of supporting the career development for women employees and future leaders at HSC.
"The intent is to help our women professionals really become comfortable at HSC and grow to a point where they can be better represented among the leadership," says Datz-Siegel. "The numbers among our technical professionals are fairly low. We try to match women up with mentors here on site. We help them with the transition from the outside to HSC and how to be effective in our culture."
For Elizabeth Stelzer, TCS Production Leader, her relationship with Datz-Siegel has been pivotal in her growth at HSC. Early on, Stelzer says she struggled with feelings of "imposter syndrome," and she wrestled with the idea of whether she had earned the position.
"Terri was always available to me when I was struggling with those feelings," says Stelzer. "I needed to work it out for myself, but she was there to offer good perspective and help me remember that I have earned this position and that I'm a good candidate for it. Her just being there was super impactful for me."
Being a Woman Leader in Manufacturing
Jennifer VanDusen, HSC's Capital Engineering Manager, says Datz-Siegel embodies what it means to be a successful female leader in the manufacturing world. And her impact at HSC over nearly a 40-year career is immense.
"Terri is known for her technical acumen and how she has really helped develop the technology that HSC is known for," says VanDusen. "But I also think of her as a personal advocate for myself and many others here on site. Without Terri I wouldn't be the person that I am today."
Datz-Siegel's passion for people and HSC is evident to many. Andy Ault, Vice President of Manufacturing, says its Terri's level of caring that sets her apart.
"That's the thing that defines her. She cares about the people she works with, she cares about HSC deeply and she cares how we do things to make sure that we do things right," he says.
So, why does she do it? After nearly a 40-year career, how does she bring the same level of energy and passion to the job site each and every day?
"I love HSC. I've grown up here and they have really formed who I am," says Datz-Siegel. "I love the people who work here and it's important to me that they go home safe every day. And not just safe, that they are as good or better than when they came in — we owe that to them."
With her passion for people, leadership and the impact she's had both inside HSC and within the manufacturing community, Terri Datz-Siegel is certainly a deserving recipient of the 2022 MFG Woman of the Year Award.