Chief Commercial Officer Retiring, Solar Sales Leader Promoted
Hemlock, Mich. – Hemlock Semiconductor Operations (HSC), the nation's leading manufacturer of hyper-pure polysilicon for the semiconductor and solar industries, today announced that Phil Rausch, previously serving as Solar Commercial Manager, has been promoted to Senior Director of Commercial Sales. Rausch joined the company's executive leadership team this month and reports directly to HSC Chairman and CEO AB Ghosh. Rausch takes over from Senior Vice President and Chief Commercial Officer, Phil Dembowski, who will retire at the end of June.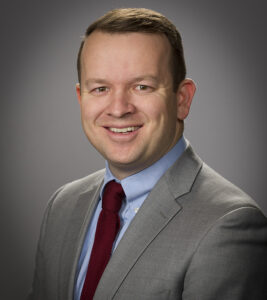 Dembowski's retirement and Rausch's promotion signal a new chapter in HSC's commercial team leadership that will include the forthcoming hiring of an executive procurement and supply logistics planning leader. Rausch and the new procurement executive will split the roles previously managed by Dembowski, further expanding the scope of the department.
"It has been a tremendous privilege to work with Phil Dembowski, whose immense contributions to our company and the Great Lakes Bay Region are deeply appreciated and will be long remembered," HSC Chairman and CEO AB Ghosh said. "I am also very pleased that Phil Rausch is joining our executive leadership team. Phil is a rising star with extraordinary talents who I am confident will lead HSC to new heights as a global market leader in the polysilicon industry."
With three decades in the chemical industry, Dembowski has helmed HSC's commercial sales, marketing and procurement functions since being named SVP and Chief Commercial Officer in 2016. He has overseen a period of expansion and increased market demand for HSC's semi- and solar-grade polysilicon. Dembowski joined HSC in 2012 as the Polysilicon Intermediates Product Line manager and, prior to his executive role, was named Commercial and Product Line Director in 2013. During his more than 35-year career in the chemical industry, he served in many commercial, product line and engineering management roles in the U.S., China and Korea for Dow Corning, where he helped establish the company as the silicon chemistry leader in the semiconductor materials space.
"Leaving HSC is bittersweet, of course, but I am excited to step back and enjoy what comes next," Dembowski said. "I will always carry with me great memories of working with my amazing HSC colleagues to advance the company and strengthen our position as one of the world's leading suppliers of polysilicon to the semiconductor and solar industries."
Rausch joined HSC in 2008, when he was hired as a shift engineer to help design and deploy the technology that accelerated HSC's capabilities in solar polysilicon production. Over the next decade he supported HSC's rapid growth in several capacities, including manufacturing team leader, economic evaluator and finance analyst, project engineering manager and business development manager, where he pursued commercial opportunities across the solar value chain. In 2021, he was promoted to Solar Commercial Manager. In his new position, Rausch will lead the HSC sales team across all four market-facing segments of HSC's business: solar, semiconductors, advanced energy storage and silicon-based chemicals.
"I'm honored to have learned from and worked closely with Phil Dembowski, and excited to help our customers further expand industries that are changing the world," Rausch said. "With strong growth expected in both solar and semiconductors, along with emerging opportunities in energy storage, HSC's commercial sales function is growing and changing to capture this growth. We serve differentiated markets that want a low-carbon, traceable, reliable supply of silicon materials for solar, semiconductor and energy storage applications. The HSC brand has been built over the last 60 years by being customer-focused and by delivering the highest quality polysilicon on time, every time. That will not change. We are here to serve the needs of our customers in the vital sectors that connect and energize our world through silicon technology."
Rausch is a graduate of Michigan Technological University, where he earned his bachelor's degree in chemical engineering. He also earned his master's degree in business administration from the Executive MBA program at Michigan State University's Eli Broad College of Business.
Photos of Dembowski and Rausch are available here and here.
About Hemlock Semiconductor
Hemlock Semiconductor Operations (HSC) is a leading provider of hyper-pure polycrystalline silicon and other silicon-based products used in the manufacture of semiconductor devices, solar cells and modules. At HSC, we're passionate about silicon-based technology and its unique potential to connect and energize the world we share. HSC's polysilicon enables customers to produce high-tech electronics and solar energy, and our efficient manufacturing process delivers products with an ultra low-carbon footprint. HSC began operations in 1961 and is owned by Corning Incorporated and Shin-Etsu Handotai.
More information can be found at:
hscpoly.com | @hscpoly | LinkedIn | Facebook | YouTube